Assortment
60 different models
About The Danish Military
The Danish Military enforce the sovereignty of Denmark, the Kingdom of Denmark and are part of society's overall preparedness. The Danish Militart contribute to international conflict prevention, participate in peacekeeping and peace-building efforts and employ over 20,000 people.
Employees are exposed to great danger and risks. Their tools, uniforms and footwear are required to cause no further burden but rather, to support the soldier in his daily tasks and objectives – that is exactly what our footwear do.
Since 2014, we have delivered approximately 60 different models to the Danish Military.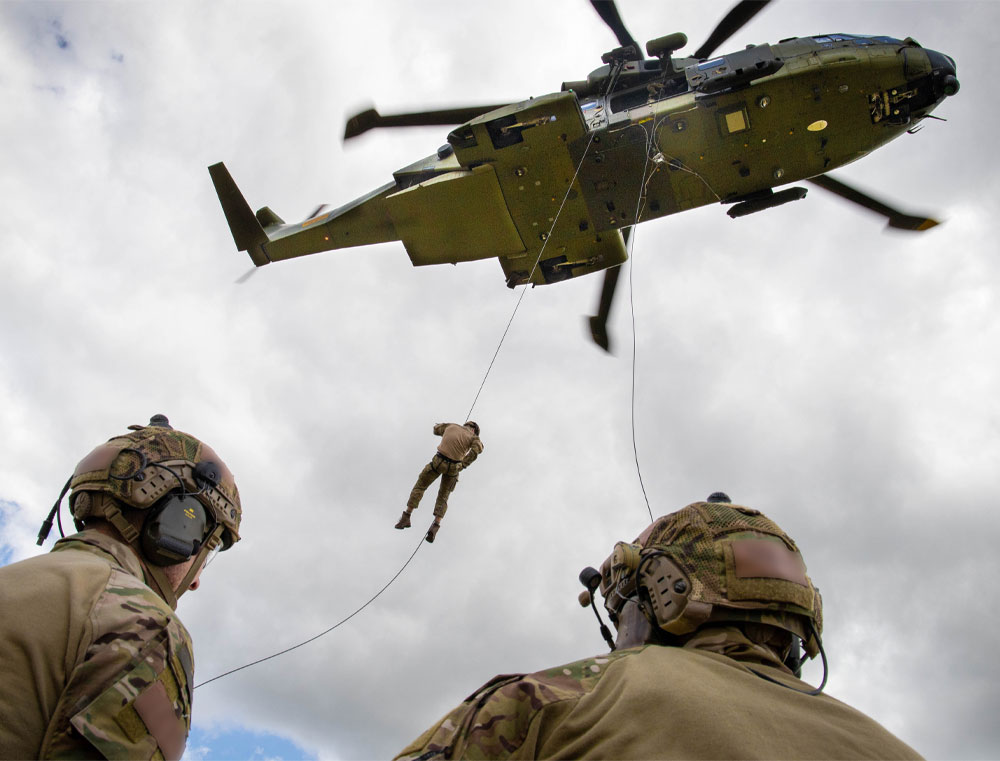 The challenges and solution
The Danish Armed forces needed a safety boot that could support employees in the Navy as well as the Army and the Air Force in their respective tasks and situations. The boot should be the primary footwear for the staff. They required a boot that has a reliable support and a functionally in all climate zones. Furthermore, a flexible and comfortable boot for diverse terrain and a boot that was easy to use.
Selection fell on a safety boot that supports the soldier in any situations and tasks mentioned. It is made of durable leather, upholstered in the right places, and with an innovative closure system that made it easy for the employees to equip and unequip their footwear.
A boot with fixed heel grip provides a firm grip on the foot. Anti-static and shock-absorbing midsole as well as soft puncture resistant layer and a fiberglass toe cap increases both comfort and safety. Furthermore, the boot has an anti-slip rubber outsole that is oil and heat resistant.
Thus; a boot that can handle all the challenges the soldiers face.
In order to extend the functionality and lifetime of the footwear, we have in addition supplied accessories and care products to the Armed Forces and their 20,000 employees.
Throughout our collaboration, we have been constantly receiving feedback regarding their footwear, which we greatly appreciated and use to constantly improve and further develop the boots. Their feedback ensure that we as a supplier always deliver the best and most up-to-date products for the military personnel.
When the The Danish Military carry out tenders on footwear, they emphasize user test as significant part in their selection of the right footwear. We consider this a great value for the current and future cooperation – it is precisely in these test that we create a valuable relation between reality, everyday life and their needs.